<!HEADER START>
<!TITLE START>

Waikiki Beach Activities, Ltd. at Hilton Hawaiian Village Hotel Expands its Management Staff

<!TITLE END> <!SOCIAL SECTION START>
<!HEADER END>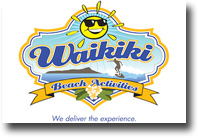 <!#43START>
For immediate release
Contact: Bob Hampton
info@wbahawaii.com
www.waikikibeachactivities.com
Waikiki Beach Activities, Ltd. at Hilton Hawaiian Village Hotel Expands its Management Staff
Honolulu, Hawaii March 2018 - Waikiki Beach Activities, Ltd. (WBA), Hawaii's leading pool-and-beach service provider, announces the promotion of its top managing staff, exclusively serving the Hilton Hawaiian Village Waikiki Beach Resort.


WBA's Chairman Bob Hampton, together with President Robert Martin, began operations at Hilton in 1991 with a crew of just five beach boys. As the 23-acre resort added new guest towers, WBA has expanded to include nearly 50 service professionals.
WBA provides staff and equipment for Hilton pools, beaches and Lagoon, and offers diverse activities from surf lessons to ocean cruises aboard its Spirit of Aloha catamaran, the only tour to operate from a pier in Waikiki.
In order to enable Hampton and Martin to focus on creating new guest attractions, WBA recently promoted key managers to positions of responsibility for daily operations. These long-standing employees are proven leaders with a deep commitment to Hilton and its guests.

Accepting the Chief Operating Officer position is Mark Vandenberg, responsible for coordinating with Hilton departmental managers to deliver the best-possible guest experience. Mark is in charge of all pool-and-beach Facilitators, with emphasis on guest satisfaction, inventory management, staff training and sales.

Reporting to Mark is Kekoa Bruhn as Director of Deck Operations. Kekoa, a native-born waterman is WBA's longest-standing employee and responsible for all pool-deck and beach boy staff, concentrating on training and supervision.

Occupying WBA's Chief Financial Officer position is Kay Oshiro. Kay is responsible for leading the administrative staff, delivering financial accountability to the hotel and its many departments, as well as vendors, partners and employees.

Principal among the administrative staff is Allison Oshiro, promoted to Assistant CFO, also a long-time member of WBA's ohana. She oversees daily receipts, cash management and records, and also assists in HR and guest relations.

Mike Murray, former VP for the Hawaii Visitor and Convention Bureau and a respected veteran of Hawaii's hospitality industry, has accepted a special role. During the past several years, Murray has assisted WBA in numerous key roles and most recently took the helm as Director of Peerless Host Hawaii, WBA's entry into the DMC market with special emphasis on in-house group events. Murray also created and leads WBA's landmark Internship Program, conducting on-site career training for select students of the TIM's School.
Rob Martin and Bob Hampton are proud of WBA's talented leadership, and look forward to its next decade of growth.
<!#43END>
ref no:31737
<!#999SPACERStart>
<!#999SPACEREnd>
<!#999SPACERStart>
<!#999SPACEREnd>
Please send questions about this website to
webmaster