<!#450IMAGESTART>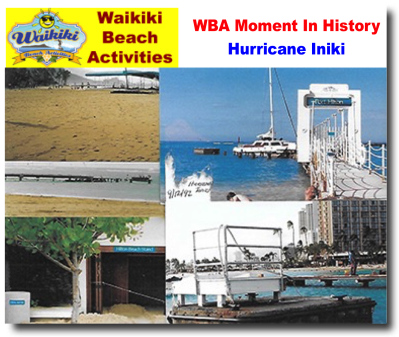 <!#450IMAGEEND>
<!#43START>
Waikiki Beach Activities Moment In History Occurred Exactly Thirty Years Ago Today, At About 6:00 Pm, September 12, 1992. - Hurricane Iniki


A brief background, Rainbow Management Group, (RMG), WBA's parent corporation had recently moved its 49 passenger catamaran, "Elua" from RMG's pier in Lahaina Maui to Hilton Pier in Waikiki to serve as the shuttle boat for Atlantis Subs and to conduct boat tours off Waikiki for Hilton guests operating exclusively from the Hilton Pier. 

The operations were going well in early 1992, with the number of passengers growing every day. 

Then about September 10th, the Pacific Hurricane Center forecast  Hurricane Iniki heading straight toward Oahu and Kauai. Hurricane Iniki's path and power caught many in Hawaii completely off guard.

"Iniki ended up being a category four storm that hit directly into the islands, and that was in modern times unheard of," Chris Brenchley, with the Central Pacific Hurricane Center said.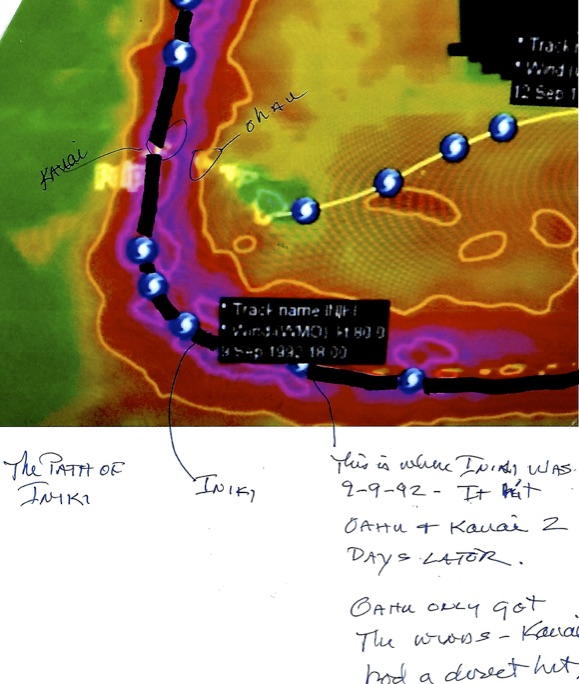 From the 9th to the 11th of September, WBA staff placed sand bags around its office in the loading dock area of Alii Tower, and the Beach stand and around the Super Pool.  Then we listened closely to the news while conducting our normal daily boat tours and daily beach and pool service.

By morning on September 11th it became clear that Oahu was going to be affected by Iniki, but would avoid a direct hit. Around 5 pm that afternoon, the wind and surf had increased to where we had to clear the beach and secure all equipment.  

At about 8:00 pm the surf was breaking over the pier and running up Duke's Beach and lapping into Super Pool. We watched as the Elua was bounced very dramatically at its moorings.  

By now the surf was moving up Paoa Rd and into the Alii loading dock.  I was in the office moving equipment up off the floor so that our office equipment might be saved.

Rob was still on the beach so I went out to see if he needed my help and I was shocked to see Rob and our Senior Captain Steve Martin, climbing onto the deck of the Elua, which by now was leaping into air because the surf was now way over the top of the pier, which was starting to come apart.  

Before I could get to the Elua, they had cast off and I watched as they were trying to plow through the huge surf and blasting wind with just a small auxiliary motor.  I was sure the Elua would soon capsize or be blown apart and tried to come up with a plan to save, Rob and Steve.  To my amazement with Elua's bow high in the air then her stern high in the air they disappeared through the wind and surf.  By now the pier had completely broken from its moorings and the surf was up to the Super Pool and the wind was gusting to over 100 MPH.

I was frantic, should I call the Coast Guard, but what could they do??? I said a prayer then helped pull equipment out of the building surf and wind.

A couple hours later I called the Waikiki Yacht Club hoping they had made it to that sanctuary.  And to my amazement they had made it.  And although damaged by surf and sea, the Elua was at a temporary dock in the club.

Here are pictures taken the next day of the pier roof sitting on Duke's Beach, our beach stand buried in sand, and the Elua back to Port Hilton moored off one of the remaining pilings. The last picture shows what was left of the Hilton Pier after Iniki.   

At the bottom is the StarAdvertiser headline from this mornings newspaper.  After reading the news story I was compelled to share this WBA History Moment with you.

Bob Hampton
Chairman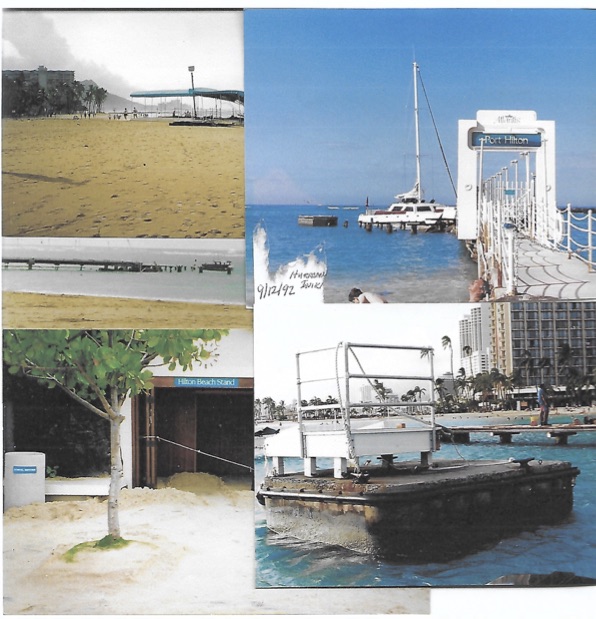 <!#43END>
ref no:35628
Waikiki Beach Activities is Hilton Hawaiian Village Hotel's Beach service, providing beach activity rental equipment, packages and coordination
Waikiki Beach Activities Moment In History Occurred Exactly Thirty Years Ago Today, At About 6:00 Pm, September 12, 1992. - Hurricane Iniki
Featured Product/Service
<!PDF LINK>
<!#999SPACERStart>
<!#999SPACEREnd>
Please send questions about this website to